Everything You Need To Know About Dubai Dolphinarium
Contents
Spread over a 54,000 sq. ft. area, the Dubai Dolphinarium sits in the heart of the Creek Park, near Children's City. This fully air-conditioned indoor attraction is the first-ever of its kind in the Middle East. It not only provides habitat to dolphins and seals but also lets visitors watch and interact with these loveable mammals. Read on to find out what you can do and what to expect at the Dubai Dolphinarium.
Dubai Dolphinarium at a Glance
Dubai Dolphinarium is accessible all year round and is open from 10 AM - 7:30 PM from Monday to Saturday.

The easiest way to get there is to take a taxi from wherever you are. Dubai RTA taxis are easily available at any spot in the city, however, you can also opt for a Careem or an Uber. If you're planning on taking the metro, the closest station is Dubai Healthcare City on the Green Line Route, from where you can reach the venue in about 5 minutes by taxi or less than 15 minutes by walk. Walking is a great option if you're visiting during winter, but for summer, taxis are your best bet.

Dubai Dolphinarium provides a safe and hygienic experience for guests and employees by following the UAE COVID-19 Safety Protocols. In addition to temperature checks, social distancing, and the wearing of masks inside the venue, sanitizers are available everywhere, the arena seats are sanitized after every show, and seating follows a '2 seats apart protocol.' There are also signs everywhere to ensure that guests follow all safety protocols. Restaurants within the Dolphinarium also follow strict safety procedures and allow only limited seating.
A Detailed Look at Dubai Dolphinarium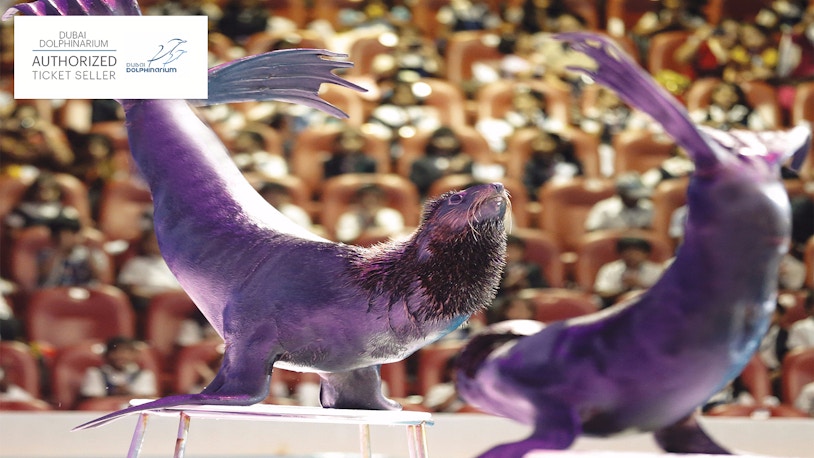 History and Developments
Known initially by its trade name Sea Magic Recreational Service, Dubai Dolphinarium opened in May 2008. This large indoor attraction started off as a fun outing for families and is now one of the most beloved tourist attractions in Dubai. First-ever of its kind, and with over 40,000 visitors every year, the Dubai Dolphinarium is home to an exotic spread of sea creatures and birds, providing a memorable experience for all its visitors.
Dubai Dolphinarium Activities and Shows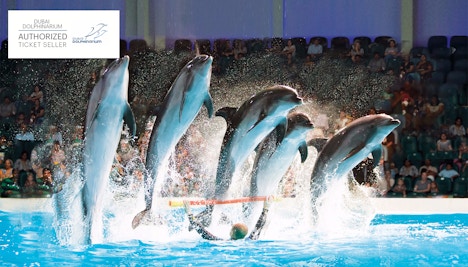 Dolphin & Seal Shows
Don't miss out on the only dolphin and seal show in the Middle East at the Dubai Dolphinarium and watch these adorable creatures perform tricks and stunts.

Timings: Show timings are at 11:00 AM, 2:00 PM, and 6:00 PM from Monday to Saturday for a 45-minute show.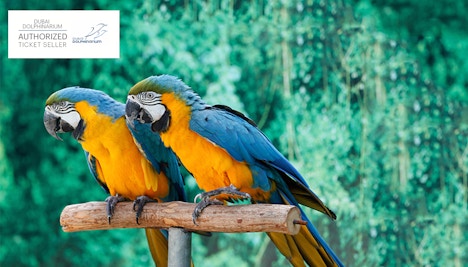 Exotic Bird Shows
The Exotic Bird Show is unlike any other you may have seen. Here, aside from getting to view the most exotic and enthralling array of birds from all over the world, you also get to have an interactive experience with them!
Timings: Shows take place at 12:15 PM, 3:15 PM, and 7:15 PM from Monday to Saturday.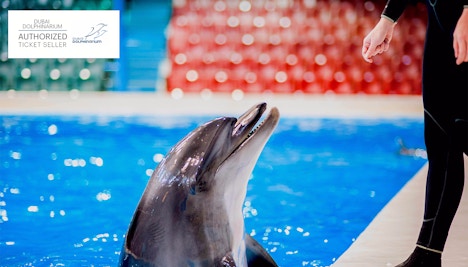 Swim with Dolphins
Indulge in a unique experience where you get to swim, dance, and play with dolphins. These majestic creatures are loving, friendly, and will take you on an unforgettable adventure.

Timings: Slots are available at 10:00 AM, 12:00 PM, 3:00 PM, and 4:00 PM from Monday to Saturday.
Book Your Dubai Dolphinarium Tickets