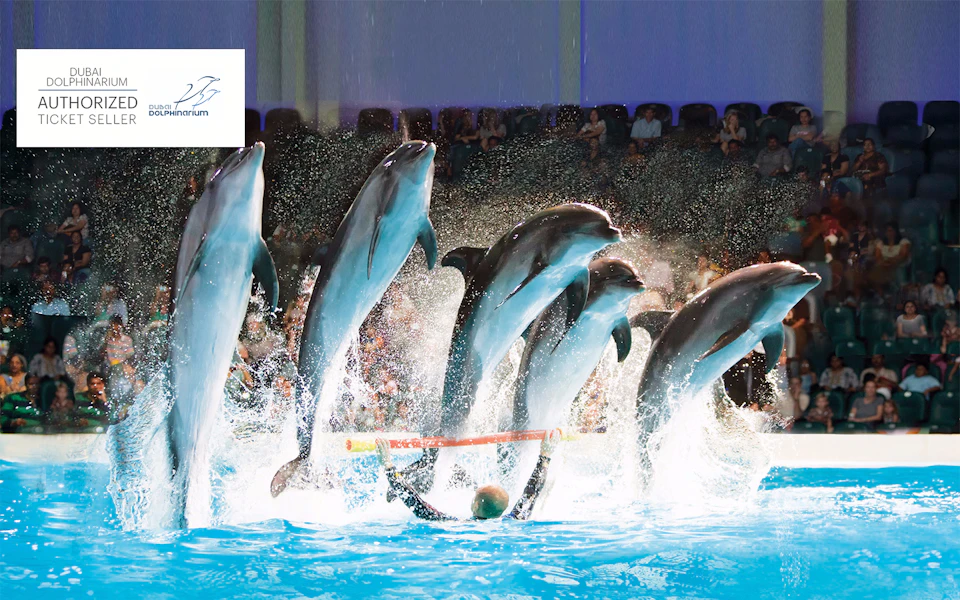 Everything You Need To Know About Dubai Dolphi9narium - Timings, Location, Address, & More
The first of its kind in the Middle East, Dubai Dolphinarium is a must-visit and a popular attraction among locals and tourists. Read on to find out everything you need to know to plan your visit, from Dubai Dolphinarium timings to location and address!
Visiting Dubai Dolphinarium 
What are the Dubai Dolphinarium timings? 
Dubai Dolphinarium is open on Monday through Saturday between 10:00 AM and 7:30 PM.
Where is Dubai Dolphinarium located?
It is located in the heart of Creek Park near Children's City, Bur Dubai.
How can I go to Dubai Dolphinarium?
You can get to Dubai Dolphinarium by taxi, bus, or metro.
Which is the nearest metro station to Dubai Dolphinarium?
The nearest metro stop is Dubai Healthcare City on the Green Line.
Dubai Dolphinarium Location
Address and Directions
Dubai Dolphinarium is located inside Creek Park through Gate 1. It is right behind Dubai Health Care City.
Address: Riyadh Street, Inside the Creek Park Gate 1, Dubai Dolphinarium Building, Dubai.
How to reach Dubai Dolphinarium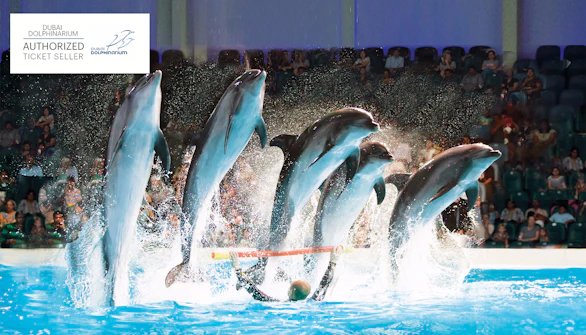 By Taxi
You can take an RTA taxi which is easily available from any area in Dubai. Tell the taxi to take you to Dubai Dolphinarium behind Health Care City and inside Creek Park. You can also order an Uber or Careem to your location.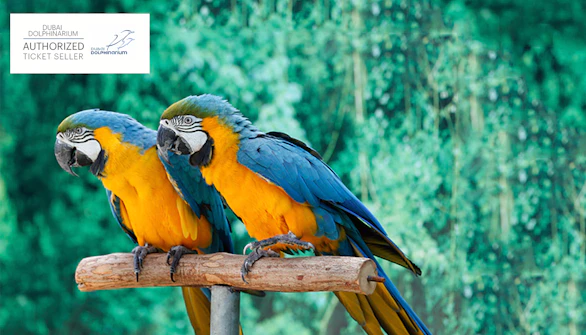 By Metro
Take the Green Line metro and get off at Dubai Health Care City. You can either take a taxi from there or walk to Dubai Dolphinarium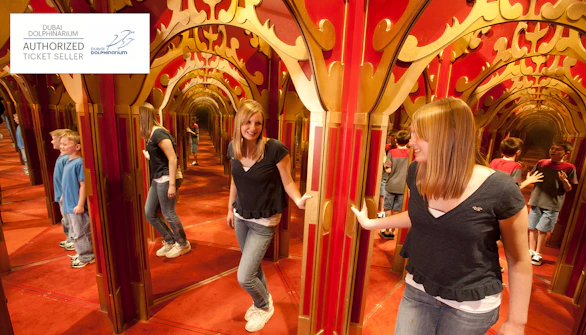 By Bus
If you're taking the bus, get down at the Creek Park Main Gate (Stop ID: 153501). It is just a minute away from Gate 1.
Dubai Dolphinarium Timings 
Dolphin and Seal Show: Show timings are at 11:00 AM, 2:00 PM, and 6:00 PM from Monday to Saturday for a 45-minute show. 11:00 AM shows on Monday, Friday, and Saturday, are discounted.

Exotic Bird Show: Shows take place at 12:15 PM, 3:15 PM, and 7:15 PM from Monday to Saturday.

Swim with Dolphins: Slots are available at 10:00 AM, 12:00 PM, 3:00 PM, and 4:00 PM from Monday to Saturday.
Note: Dubai Dolphinarium is closed on Sundays. 
Dubai Dolphinarium Facilities 
Restaurant: Grab a quick snack, beverage, or meal at the Asian-inspired Happy Valley restaurant inside the Dolphinarium.
Photos: Get your picture taken with the dolphins, seals, and exotic birds and take home a digital or physical copy.
Baby changing rooms: Baby changing rooms are situated in all washrooms. 
Gift Shop: Choose a souvenir from a wide range of toys, gifts, and clothes. Entry to the Gift Shop is free.
Wheelchair Access: Dubai Dolphinarium is wheelchair friendly, including special access seating.
Free WiFi: Wifi is available to all guests and is free of cost. Guests can log in using their Facebook accounts. 
Free Parking: Free parking is available at Creek Park Gate 1 on a first-come, first-served basis. 
Prayer Room: Prayer rooms are located next to the main Dolphinarium Building. 
Dining, Shopping, and Entertainment at Dubai Dolphinarium
Immerse yourself in a life-like cinema experience at the 5D & 7D Cinemas and enjoy some amazing physical effects while watching an array of 3D footage. You can enjoy the 5D Cinema Movie Ride or the 7D Cinema Shooting game or both. This fun group activity will take you to the next level of cinema-viewing!
The gift shop at Dubai Dolphinarium has a wide range of souvenirs, toys, t-shirts, and gifts at affordable prices. Take back a souvenir or two with you that you can always treasure. 
Don't forget to capture your memorable moments at the Dolphinarium and then head on over to the Photo Shop to get a digital or physical copy of your photos. A team of experts will be there to let you know all the different poses you can capture with the seals, dolphins, and exotic birds. 
Enjoy the mouth-watering flavors of Asia at Happy Valley Restaurant inside the Dubai Dolphinarium. The restaurant is affordable and serves a wide range of Asian-inspired dishes, with a mix of hot & cold beverages, snacks, and meals. 
The restaurant is also open to visitors who have not booked a ticket for the dolphinarium and simply want to get a whiff of the vibe inside. You can also pre-book the restaurant for large groups as the restaurant can seat up to 150 people (subject to COVID-19 restrictions). 
Know Before You Go
Entry is free for children below 2 years.
Children between 2 - 11 years of age require a child's ticket.
An adult ticket is required for children who are 12 years of age and above.
Children below 7 years should be accompanied by an adult at all times.
Entry to the park requires a Nol card, which can be purchased at any metro station or at the park entrance. A mandatory fee of AED 5 will be charged for entry to the park. This is not included in the tickets to Dubai Dolphinarium. 
Free seating for the 11 AM show on Monday, Friday, and Saturday is available on a first-come, first-served basis. 
The discounted Dolphin & Seal Show will be every Monday, Friday, and Saturday at 11 AM.
Dubai Dolphinarium Rules and Regulations 
Guests are required to wear appropriate and respectable clothing on their visit to the Dolphinarium. 
Children must be supervised at all times.
Strollers are not allowed inside the Dolphinarium. 
Smoking is prohibited inside the Dolphinarium and its premises. 
Guests are required to carry relevant ID to present at the ticket counter. For tourists, this can be either a passport or a drivers license.
Dubai Dolphinarium FAQs
Can I book my ticket online?
Yes, tickets can be booked online or directly at the venue.
Is the swimming with dolphins experience suitable for young children?
All the animals have been professionally trained and it is safe to interact with them. Experts will be present during all activities to ensure the safety of all guests including children.
Can I book tickets for the swim with dolphins activity at the venue?
Yes, but it's better if you book it in advance as they tend to get sold out.
Do I need to know how to swim for the activities?
For deep swimming, you do need to know how to swim, if not, you can opt for the shallow water experience.
What is the cost of one ticket for the shows?
Dolphin & Seal shows are prices at AED 105 for adults and AED 50 for children. Exotic Bird Show is priced at AED 50 for adults and AED 30 for children. Swim with Dolphins costs AED 475 for the shallow experience and AED 630 for the deep swimming experience per person. 
What are the attractions inside the Dolphinarium?
There are many activities inside - Dolphin & Seal Shows, Exotic Bird Show, Swim with Dolphins, Trampoline, 5D & 7D Cinema, and Mirror Maze.
Is there WiFi for visitors?
Yes, there is free WiFi for all visitors.
Where is Dubai Dolphinarium?
Dubai Dolphinarium is located in Creek Park, Bur Dubai, near Health Care City.
What happens at Dubai Dolphinarium?
You get to witness live shows of dolphins, seals, and birds, performing, and even swim and interact with them.
What other attractions are close to Dubai Dolphinarium?
There are many activities within Creek Park itself. You can go on a camel ride, jump on the cable car, Children's City, ride a wooden dhow on the water, have a picnic, and more.